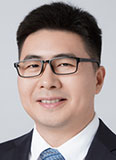 Prof. Haitao Yu
Tongji University
Prof. Yu has long been engaged in the research of seismic theory and the application of underground structures. He has achieved marked progress in the non-uniform multi-shake-table test principle, multi-scale coupling method and strong earthquake differential control technology. Three achievements have been incorporated into industry standards and applied to more than 20 major projects, such as the immersed tunnel of Hong Kong-Zhuhai-Macao Bridge, the Shenzhen-Zhongshan Passage, the Dalian Bay Undersea Tunnel, the Ultra-high voltage GIL utility tunnel of State Grid, the long section of Xiong'an New Area, and the demonstration project of large-tonnage integral prefabricated assembled utility tunnel, resolving the difficult issue of anti-shock design in practical projects.
Prof. Yu has chaired four projects of the National Natural Science Foundation of China, two sub-projects of the National Key Research and Development Program, and two major Shanghai Municipality science and technology research projects. He has been selected into the list of top 2% scientists in the world (2021), Future Leaders Program of American Society for Rock Mechanics (2021), 10th Shanghai Young Science and Technology Talents (2020), National Excellent Young Scientists Fund (2019), and Shanghai Young Science and Technology Morning Stars (2017). Prof. Yu has published 63 SCI papers in CMAME, IJNME, IJNAMG, TUST, SDEE, BEE, ASCE, ASTM and other international journals (54 in JRC Q1, 8 in Q2), 5 ESI highly cited papers, with more than 2000 citations and an H index of 21. He has won one provincial and ministerial special prize and six first prizes, including the first prize of the Shanghai Science and Technology Progress Award (ranked second).
Prof. Yu has been invited to give reports at international conferences such as the World Congress on Computational Mechanics 12 times. Now, he serves as an associate editor of Frontiers of Structure and Civil Engineering (FSCE), an international SCI journal supported by the Chinese Academy of Engineering and a special editorial board member of Advanced Power Materials. He is a member of the American Rock Mechanics Association's Technical Committees on Tunneling and Underground Storage and Utilization and head of its Monitoring and Risk Team. He also holds the membership of the TC305 Technical Committee of International Society for Soil Mechanics and Geotechnical Engineering and the co-chairmanship of the Technical Committee of the Tunnel Engineering Division, World Transport Convention (WTC).
Prof. Yu is the director of Underwater Tunnel Engineering Technology Branch of Chinese Institution of Soil Mechanics and Geotechnical Engineering, a member of the Geotechnical Earthquake Prevention and Disaster Reduction Professional Committee and the Post-seismic Disaster Chain Professional Committee of Seismological Society of China, and a member of Urban Transportation Council of China Association for Engineering Construction Standardization. In addition, he is also a guest commentator of Mathematical Reviews, a famous journal of American Mathematical Society (AMS).
Title: New progress in research on seismic absorption and disaster prevention of tunnels and underground engineering
Abstract: Seismic research of tunnels and underground engineering is one of the important research directions in civil engineering disaster prevention. Under the new situation of large-scale tunnel construction, spatial structures and complicated local structures, this research focuses on the major needs of infrastructure construction, and expounds on the new progress of seismic response analysis and disaster control of long tunnels, aiming to tackle the scientific difficulties faced by the seismic research, such as longitudinal seismic design theories, large-scale seismic response analysis methods, non-uniform seismic excitation effects, disaster mechanism of strong earthquakes.